Exceptional, High-Quality Care
At St. Ann Rehabilitation & Nursing Center, the quality of care is not just important. It's essential.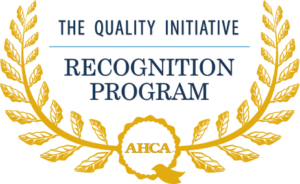 AHCA/NCAL Quality Initiative Recognition Program (2020)
St. Ann was named to this national list of skilled nursing facilities by the American Health Care Association/National Center for Assisted Living (AHCA/NCAL) for achieving goals related to reduced hospitalization rates, increased customer satisfaction levels and enhanced functional and physical ability of residents. 
Resident and Family Satisfaction
We take pride in feedback from our residents and their loved ones. At the end of the day, that's what matters most.
We're proud that our resident and family satisfaction levels are above industry standards, including our perfect resident customer satisfaction rate.
Residents
100% resident satisfaction level (86% national average)
100% of residents would recommend St. Ann to others (85% national average)
Family Members
88% overall family satisfaction level (88% national average)
88% of family members would recommend St. Ann to others (87% national average)